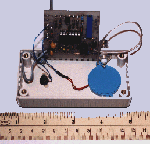 An RF Sensing Alarm
73 Amateur Radio Magazine - May 1998
Par/by: Bertrand Zauhar, VE2ZAZ
Voici un article que j'ai publié dans le magazine 73 Amateur Radio. Il décrit la construction d'une alarme détectant une émission radio HF/VHF/UHF continuelle d'une durée supérieure à 5 minutes. Cette alarme est utile pour détecter les émissions involontaires de l'équipement radioamateur à la maison. Elle peut aussi servir à aviser l'opérateur que son émission est trop longue.
Désolé, mais cet article a été rédigé en englais uniquement.
Here is an article I published in 73 Amateur Radio magazine. It describes a device that alerts the operator when it detects a continuous HF/VHF/UHF RF transmission that lasts more than 5 minutes. This alarm is useful to detect unintentional transmissions by your home amateur radio equipment. It can also serve as a transmission timer to advise the operator that his transmission is too long.
Afficher / Display: "An RF sensing Alarm" article
J'avais originellement soumis le design du PCB à l'éditeur. Faute d'espace magazine, le design n'a pas été inclus à l'article. Ci-dessous, voici le design sous forme de fichier postscript (.ps) à l'échelle 1:1. Vous pourrez l'imprimer sur toute imprimante laser de type postscript.
I had originally submitted the PCB layout to the magazine editor. Due to a lack of magazine space, the layout was not included in the article. Here is the layout as a postscript file (.ps) in 1:1 scale. You can print it on any poscript laser printer.

RFALMPCB.PS.ZIP (9 KB)