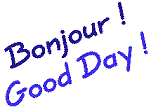 J'ai créé ce site Web pour partager mes projets de radioamateur et d'électronique avec vous. Je vous invite à parcourir le site. Vous y ferez peut-être des trouvailles intéressantes...

I've created this Web site to share my ham radio and electronics projects with you. I invite you to browse through it. You might make some interesting findings...

Bertrand "ZAZ"
| | |
| --- | --- |
| Follow updates to this website on | |
04/04/2014
New website contents:
"Smart Thermostat with Raspberry Pi
"
07/08/2013
"A Primer on Digital Modulation"
Presentation now online
08/03/2013
New website contents:
"Test Instrument Control Tidbits
"